Freshly published!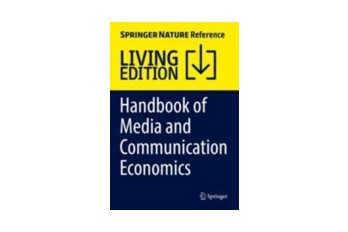 The Handbook of Media and Communication Economics (Krone/Pellegrini) is growing!
Freshly inserted is the paper »Management of Content in the Core Processes of Production and Distribution«
https://link.springer.com/referenceworkentry/10.1007/978-3-658-34048-3_14-2
»The article focuses on the handling of data as a central resource of the value creation system of the digital media industry as well as the support of core processes in production and distribution with information systems. The content of the media industry is represented in the form of data. These exist in different forms and with different properties. The article shows which different types of data exist and which differentiated management of data is necessary, so that these can on the one hand represent the entrepreneurial events and control processes, and on the other hand can be used as ›material‹ in the goods of the media industry. The article also provides a first building block for the theoretical-conceptual penetration of these issues in domain-specific form.
The value creation system of the media industry is characterised by the fact that both processes and goods that are there to manage public communication can be fully digitised. The management of databases and the electronic and (partially) automatic processing of these databases with the help of information systems is therefore of great importance in the processes of organising public communication. Data processing is not reduced, as in other sectors, to mapping and describing operational, inter-operational and market events in order to make decisions or control processes on this basis. In industries whose goods do not consist of physical parts but of binary-codable character sets, data and their processing options are part of the service to be produced. One dominant manifestation of this phenomenon is the increasing integration of process data with product data as the basis of integrated marketing strategies (Pellegrini 2014a, p. 69). A second level arises for data processing in the value creation system of the media industry, which has so far been little considered and conceptually and conceptually inadequately defined, and which places strategic data management at the centre of the creation of bets.
The aim of this article is to present the various views of the resource data and its processing in the core processes of the media industry conceptually and conceptually. The following explanations focus, where specifications are required, on so-called written or reading media, which are characterised by the fact that content is encoded by means of graphic signs (writing, symbols, icons). Despite the penetratingly assumed 'convergence due to digitalisation' (e.g. Jenkins 2004), there are still significant differences between different forms of content expression. Reading media require different skills in reception than 'listening media' (radio) or 'viewing media' (silent film; cf. also Hagenhoff in this volume) and they have different characteristics that lead to different tasks and options in their design (e.g. management of space instead of management of airtime). "The one media economy" therefore does not exist; generally valid statements on processes and objects, which moreover, however, still have sufficient content, cannot be generated.«